Note: I will be adding to this list. Here's a rundown of what I've found so far:
NOTE: *** means a game is currently being traded or sold. if it falls through, it will be available again
SNES
Secret of Mana ***
Final Fantasy III (aka FFVI)
Final Fantasy II (aka FFIV)
Ninja Gaiden Trilogy (Very Rare!! w/ manual) ***
Star Fox (w/box)
Mega Man X (Box and manual) ***
Mega Man X2 ***
Illusion of Gaia
Super Metroid
Super Mario RPG
Rock n' Roll Racing ***
Lufia II: Rise of the Sinistrals ***
Chrono Trigger
Final Fantasy Mystic Quest (w/ box)
U.N. Squadron (cracked, beat up, works...but its ugly)
NES
Bionic Commando
T&C Surf Design
Dragon Warrior
Mario Bros. & Duck Hunt
Mario 2
Metroid
The Legend of Zelda
Zelda II: The Adventure of Link
Double Dragon II
Karnov
Punch Out!!
Gauntlet
Gauntlet II (w/ box)
Mega Man
Mega Man 3
Popeye
Jackal
Teenage Mutant Ninja Turtles
Teenage Mutant Ninja Turtles 3: The Manhattan Project
Faxanadu
Marble Madness
Final Fantasy (w/ box and world map, manual may appear soon)
Indiana Jones and the Temple of Doom
XEXYZ
Other Systems
Mega Man 8 (Saturn) Rare! Superior to PSX version
Kingdom Hearts RE: Chain of Memories (PS2, 1st print, facotry sealed)
Dragon Force (Saturn) Disc only, but I have the ultra rare RAM cart.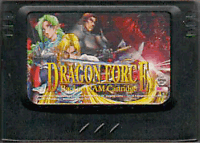 Zelda: Link's Awakening (GB) CIB
Pokemon Sapphire (GBA)
New! Factory sealed!
Metroid: Fusion (GBA)
Tales of Phantasia (GBA)
CIB
Gunstar Super Heroes (GBA)
CIB
Metal Gear Solid: The Twin Snakes (GC)
Zelda: Ocarina of Time & Master Quest (GC)
Zelda: Collector's Edition (GC)
Geist (GC)
Tales of Symphonia (GC)
Skies of Arcadia: Legends (GC)
Disgaea 1 Greatest Hits (PS2 Factory Sealed)
SMT: Devil Summoner 2 (PS2 Factory Sealed)
Game & Watch Collection (Club Nintendo exclusive - NIB sealed)
Jade Empire: LE (XBOX)
Halo 2: LE (XBOX)
Shenmue 2 (XBOX, missing cinema disc)
Panzer Dragoon Oorta (XBOX CIB)
Infinite Undiscovery (360 factory sealed)
Games I have but love dearly. All are CIB. Tough trades for me:
Valkyrie Profile (PSX)
Einhander (PSX)
Final Fantasy VII rare black label misprint (PSX)
...actually I have every Square/ Square-Enix game released for the PSX except Parasite Eve 2, Chocobo's Dungeon 2, Legend of Mana and Threads of Fate.
Lunar 2: Eternal Blue Complete (PSX)
Tales of Vesperia: Limited Edition (360)
Metal Gear Solid 4: LE (PS3)
MGS3: Subsistence LE (red box, 3 disc) (PS2) Rare!
Big Bumpin' (360) -- PSYCHE!
The Document of Metal Gear Solid 2 (PS2)
Metal Gear Saga, Vol. 1 (DVD)
Top Loading NES w/ original rounded controller (Mega rare 2nd version of the NES released in 1993)
1st model PSX w/ video/audio outputs (RARE- ones of the best CD players ever)
Sega Saturn
Sega Dreamcast
Black, Backlit GBA SP (rare!)
Club Nintendo exclusive Game & Watch
PS3 codes for the Madden 12 Online Pass and the Madden Ultimate Team Cover Athlete Legends Pack (Hall of Fame Edition Exclusive)
PS3 Rock Band 2 Bonus Tracks code
Coupon code for 15% off any purchase from the EA Origins Store
Guitar Hero World Tour import code
Guitar Hero 5 import code
Band Hero import code
BOXES, MANUALS, & ETC. (no games)
Star Wars: The Force Unleashed Ultimate Sith Edition Steelbook (PS3 no game discs)
Dead Rising 2 Zombrex Edition Steelbook (360 and PS3 versions, w/ manual)
Halo Wars Steelbook (w/ manual and mini strategy guide)
Naruto Ultimate Ninja Storm Steelbook (PS3 w/ manual)
Super Mario Land 2 (GB) box, manual and nintendo power offer card ***
NBA JAM (SNES) box
Super Star Wars (SNES) box
Street Fighter II (SNES) box
Werewolf: The Last Warrior (NES) box
Zelda: A Link to the Past (SNES) box ***
Snoopy's Silly Sports Spectacular (NES) box
Metal Mech (NES) box
Super Game Boy (SNES) box
Super Mario All Stars (SNES) box ***
Skate or Die (NES) box
StarTropics (NES) box
Battletoads & Double Dragon (NES, manual only)
Soul Reaver: The Legacy of Kain (Dreamcast case, art and manual)
Lunar: The Silver Star Story (Jewel case from the Complete edition, includes the "Making of" disc and the soundtrack CD)
Japanese Valkyria Chronicles box art and manual (much better than the US box art)
I have the following strategy guides:
Limited Edition Guides
Fire Emblem: Radiant Dawn Premiere Edition
(Sealed!)
Uncharted 3
Assassin's Creed Revelations
The Elder Scrolls V: Skyrim
Final Fantasy XII
Final Fantasy XIII
Final Fantasy XIII-2
Red Dead Redemption GOTY
(Sealed!)
Dark Souls
(Sealed!)
The Legend of Zelda: Skyward Sword (w/ cloth map)
Gears of War 3
Fallout 3
Fallout: New Vegas
The Legend of Zelda: Phantom Hourglass Premiere Edition
Metal Gear Solid 3: Snake Eater
Mass Effect 2
Official Game Boy Player's Guide (rare, released by Nintendo in 1991)
Official Super NES Player's Guide (rare, 1991, missing back cover)
Normal Guides
Final Fantasy
Final Fantasy II
Final Fantasy IV
Crisis Core: Final Fantasy VII
Final Fantasy VIII
Final Fantasy X
Final Fantasy X-2
Final Fantasy Tactics A2: Grimoire of the Rift
Disgaea: Hour of Darkness
Disgaea 4
Gears of War 2
Grand Theft Auto IV
Grand Theft Auto San Andreas
Lost Odyssey
Metal Gear Solid 3: Subsistence
Ratchet & Clank Future: Tools of Destruction
Shenmue (missing back cover)
Elder Scrolls IV: Oblivion (revised, expanded)
Uncharted: Drake's Fortune
Star Ocean: The Last Hope (front cover missing, pretty worn)
Valkyria Chronicles
Knick-Knacks and other stuff!
PaRappa the Rapper vinyl fingurine (bought from Japan in 1998)
PJ Berri (from PaRappa) plush (w/ original tag from Japan)
2009 Club Nintendo Platinum reward Mario hat (never opened from bag, brand new)
2010 Club Nintendo Platinum reward Super Mario Bros. statue
2011 Club Nintendo Platinum reward Super Mario Bros. pin collection (sealed)
Club Nintendo silver DS game wallet with EXTREMELY nice metal stylus. (Sealed...I ordered another when I got mine. I absolutely LOVE the heavy, quality stylus).
Fallout 3 PIP Boy Bobblehead
Persona 4 Art Book ("Visual Data")
The poster that came with the first Final Fantasy Legend on Game Boy.
Knights in the Nightmare: The Tome of Lost Souls
Single sided poster that came with 1st printing of Chrono Trigger on DS
Various controllers and cables for NES, SNES, DC, Saturn, PS2, GC, etc. etc. Random cords and controllers are everywhere.
...and other rare stuff. I've yet to finish. Sorry my list is cluttered and not very organized right now. Imagine the inventory here! Ug.
Edited by fettmaster, 12 March 2012 - 08:47 PM.
Marked games as held for trade/sale