Hello All,
Try this new app, App Trailers on the USA
Apple App Store
or
Android Market
Or go to m.appredeem.com with your iPhone, iPod or iPad using your safari browser and download their Web App for Free
Get Real Rewards for trying apps or viewing trailers with the App Trailers app.
Once you download the app go into "Enter Bonus Code" and enter:
ajven0m
Doing so will grant you 50 points
You can earn many prizes from PayPal transaction to Xbox Microsoft Points and $10 iTunes cards.
1000 points = $1.00 USD
It's very easy to earn points, for example, many of our family members or family has an Android or iOS device. Have them download the app apply your own code you get for registering and you get a whopping 1000 points. This the most important step because watching trailers can get a little tedious. Repeat this step with anyone that has such device. I joined February 25th and on April 5th, I reached 10700 points and redeemed it for a $10 iTunes card without much effort.
Here are some screenshots, these show my total points, Some of the prizes they offer, and when I got an instant code for a $10 iTunes Card and redeemed it.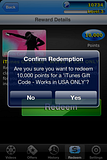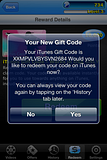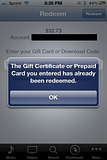 I would recommend you try this, you really have nothing to lose, but a couple of minutes to download and enter the code. If I start receiving enough points, I'll be posting a raffle for a giveaway.
If you have any questions, feel free to PM me and thanks for looking.
Remember use invite code: ajven0m(<with a zero)
Edited by AjVen0m, 10 May 2012 - 07:18 AM.
Added some screenshots.