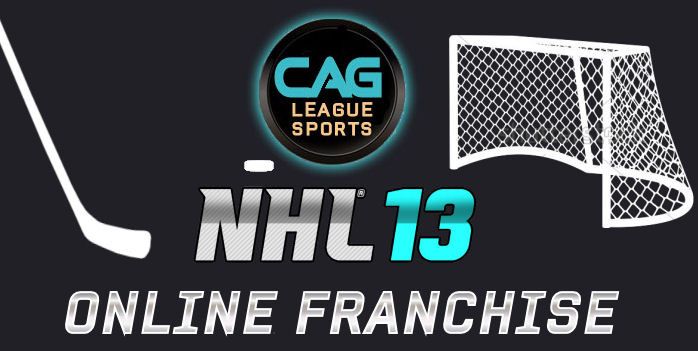 Hello, everybody! For the first time ever, the NHL series will be offering a true online franchise experience in NHL 13 with the new GM Connected mode. Multiple season progression, rookie scouting, blockbuster trades, free agency, AHL management, you name it. It's FINALLY going to be online! That makes this our chance to have a real, serious league for the first time.
I know there are a lot of hockey fans out there, and I'd love to have a full league. I only ask that people only sign up if they're serious about contacting opponents, scheduling games, and communicating in the thread. This is our opportunity to have something similar to the Madden and NCAA leagues on CAG, and can definitely be a lot of fun if people are committed to it.
If this sounds like something you'd be interested in, feel free to sign up and pick your favorite team!
League Rules and Policies
In general, the NHL series needs less guidelines than some of the other sports leagues. But there are still some areas people need to be aware of.
Playstyles
Skating Backward on Breakaways
Diving At The Goalie
Sportsmanship
Disconnects
Advancement
Free Agency
Trades
Communication
Enabling CPU Play (Required of ALL Teams)
Teams
Team | CAG Name (click to send private message) | XBL Gamertag | Time Zone | Availability
Eastern Conference
Atlantic
New Jersey Devils | *OPEN*
New York Islanders | *OPEN*
New York Rangers | jza1218 | statnut28 | EST | ???
Philadelphia Flyers | Flyersfan | PsychedelicRock | ??? | ???
Pittsburgh Penguins | DarkTower80 | DarkTower80 | MST | ???
Northeast
Boston Bruins | GamerDude316 | Cydoniac | EST | Weeknights after 5:30-6:00 until 10:00, weekends are generally more flexible
Buffalo Sabres | Twick87 | twick87 | EST | anytime after 6pm mon-fri + anytime on weekends
Montreal Canadiens | mvp828 | AttackingMVP | EST | any time after 6PM est to 1 or 2 AM est
Ottawa Senators | *OPEN*
Toronto Maple Leafs | *OPEN*
Southeast
Carolina Hurricanes | *OPEN*
Florida Panthers | Mr_hockey66 | mr hockey66 | EST | everynight about 5-11 pn mon-Friday Saturday's and Sunday's any time
Tampa Bay Lightning | Vulcan2422 | Vulcan7905 | EST | ???
Washington Capitals | DestroVega | DestroVega | EST | pretty flexible
Winnipeg Jets | IndoAssassin | IndoAssassin | PST | Anyday except Tuesday, and Wednesday or other day that I get called into work
Western Conference
Central
Chicago Blackhawks | chriscolbert | chriscolbert | EST | ???
Columbus Blue Jackets | *OPEN*
Detroit Red Wings | Wpark83 | Wpark83 | EST | any night of the week after 8 or 9 EST, Sunday's I'm very flexible. Only days in the fall I can't play are Saturdays
Nashville Predators | n8rockerasu | n8rocker82 | CST | Sun - 11AM-9PM CST, Mon-Thu - 5-9PM CST, Fri - 5PM-2AM CST, Sat - anytime
St. Louis Blues | sendme | shazo | CST | every other Saturday, Sunday and Monday, PM for specific availability
Northwest
Calgary Flames | *OPEN*
Colorado Avalanche | moojuice | moojuice | MST | between 10-12est weekdays, fairly open weekends. Can work my schedule around fairly easily weekdays after 7est with couple days notice
Edmonton Oilers | Captain OBVIOU5 | Captain OBVIOU5 | MST | ???
Minnesota Wild | Canbanana | Canbanana | CST | very flexible
Vancouver Canucks | ajh2298 | ajh2298 | EST | very flexible
Pacific
Anaheim Ducks | *OPEN*
Dallas Stars | *OPEN*
Los Angeles Kings | Matt Young | X Matt Young X | PST | ???
Phoenix Coyotes | garrett007 | garrett007 | EST | ???
San Jose Sharks | *OPEN*
Edited by CAGLeagueSports, 22 November 2012 - 06:38 AM.