Game Info:
Shadow Hearts: From the New World is the latest instalment in the Shadow Hearts series. While its predecessors took place in Europe and Asia (SH in 1914 and SH II in 1915), SH: FtNM will take place in the USA in 1929.
The Shadow Hearts series is a series of turn based RPGs that uses real historical events as a backdrop for fantasy (often dark-themed) inspired story. The game features many real historical characters like Mata Hari, Yoshio Kawashima, Rasputin and Roger Bacon.
SH III will be released in Japan summer '05. It's roughly 70% completed. No US companies has grabbed the rights to publish it here yet. If there're any more updates I'll keep them here.
04/22
They updated the site, changed the layout of the SH II website and even resurrected the SH website.
Never have I seen such dedication to a series that a company would partly/completely re-do the website a previous game in the series. Go Nautilus and Aruze!
Shadow Hearts: From the New World website
Shadow Hearts II website
Shadow Hearts website
Can't wait for it. Here's hoping it gets released in the NA. *crosses fingers* C'mon Midway, snatch up the rights to this baby. Atlus would be cool as well.
UPDATE (04/24):
Here's a download of the
SH III trailer
Translations of the characters bio (so far) can be found
here
(Warning! The 4th paragraph contains SH:C spoilers!)
Some
screenshots
UPDATE (04/26):
Here're some scans from the new issue of Famitsu, credit goes to gamefaqs' Bebpo for the pictures and Gamefaqs' aoiseishin for hosting it:
The above picture shows that Shania is the harmonixer in this game.
UPDATE (05/10):
Some scan from some magazine: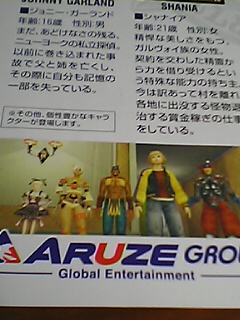 New scans from Dorimanga and release info, credits to BigGhostX of gamefaqs, who in turn credits maskrider (another gamefaqer)
Magazine scan translation:
Yuri (Uru) : Heeeh ! She knows how to use fusions, too ?
Shania : It wouldn't be good to be related to you ...
Anastasia : Only you (are in) ! Crook !!!
Lenny (Rene) : Envy me ? kiddo
Japanese Release Info
Like SH II there will be a Limited Edition release:
Release date: July 28th
Regular Price: 7,389yen
Limited Edition Price: 12,390yen
Limited Edition contents: Special Footage DVD, Special Soundtrack CD, Johnny's special T-shirt, Keychain shaped as Shania's earring, 3 Valentine Siblings straps, Special B5-size Notebook.
UPDATE (06/24/05)
Here's the update I promised to many months ago, my bad:
Translations of character's bios on shadowhearts.net:
Hilda - A Magical-girl lookalike. She's actually a 400 year old vampire and is a self-styled heroine. She uses magical sticks as weapons, her appearance changes depending on her calorie intake.
Mao - A giant of a man (i think he mistranslated this, Mao is a cat), He speaks with experience, having lived for many years. He uses a scalpel as a weapon and fights in drunken fist style.
Frank - A fake ninja. He uses ninja swords.... or rather a huge saw as a weapon. Speaks strange english and is a high-tension self-styled ninja.
Also, Famitsu reports that the development of Shadow Hearts: FTNW has been completed.
Here's the list
Armored Core: Last Raven (PS2, From Software) - 90%
Dai-3-Ji Super Robot Taisen Alpha: Shuuen no Gingae (PS2, Banpresto) - 80%
Fatal Fury: Mark of the Wolves (PS2, SNK Playmore) - 87%
Genji (PS2, Sony) - 99%
Grandia 3 (PS2, Square Enix) - 80%
Kagero II: Dark Illusion (PS2, Tecmo) - 95 %
Kingdom Hearts II (PS2, Square Enix) - 60-70%
Phantasy Star Universe (PS2, Sega) - 40%
Sakura Taisen 5: Saraba Itoshiki HitoYo (PS2, Sega) - 97%
Saru Getchu 3 / Ape Escape 3 (PS2, Sony) - 80%
Sengoku Basara (PS2, Capcom) - 95%
Shadow Hearts: From the New World (PS2, Aruze) - 100%
New characters revealed:
Baigen
Gerard Mazymell returns!
SHADOW HEARTS SET FOR SPRING '06 RELEASE
Haven't been around for much, cos of moving and settling in and all, but I thought I should pop in to share some news.
XSEED games, a company headed by former Square-Enix president, Jun Iwasaki has announced that they will publish SH: FTNW.
http://ps2.ign.com/a...2/652300p1.html
September 20, 2005 - Brand new videogame publisher XSEED Games (headed up by former Square Enix president Jun Iwasaki) has announced that it will be bringing Wild ARMs 4 and Shadow Hearts: From the New World to North American retailers in the first quarter of 2006. They're the first two titles for the fledgling publisher, whose overarching goal is to properly translate and release Japanese-based titles that should appeal to a hungry U.S. market.
"We are extremely excited to launch XSEED Games with these two quality role-playing games," said Jun Iwasaki, president, XSEED Games. "Our extensive past experience working with some of the highest quality titles in the industry has really honed our ability to spot the best in interactive entertainment. These two titles are the first of what the XSEED Games label will come to represent in bringing great entertainment to the U.S. audience. We expect both Wild ARMs 4 and Shadow Hearts to not only appeal to the existing fans of the series but also attract newcomers."
Shadow Hearts 3 has some interesting character designs...
For the unfamiliar, Shadow Hearts: From the New World is the third game in the Shadow Hearts series and is the direct follow-up to IGN's PlayStation 2 RPG of the year from 2004. Released in Japan this past June, From the New World follows new hero Johnny Garland as he joins an investigation to track down a dangerous criminal during the U.S.' Great Depression. Players can expect new adjustments to the Judgment Ring combat system (like option to execute a combo command with a second character or performing two different actions in one turn), and an all-new cast of supporting NPCs and environments previously unseen in the series before.
...Then again, so does Wild ARMs 4.
Wild ARMs 4, on the other hand, tells the story of a teenage boy who has grown up in a large sphere floating thousands of feet above the surface named Jude Maverick. When the take begins, Jude's homeland is attacked by invaders from the sky, and with help from three other teenage heroes, he sets off to stop the war of Filgaia and embrace his destiny to be something greater. The game's brand new "Accelerator" ability will allow players to manipulate time, and the high-end production values consist of cel-shaded graphics and complete voice-overs during cutscenes.
We'll have more on both of these games fairly soon (including a video interview with XSEED CEO Jun Iwasaki held last month) and have also updated the media pages for both games to celebrate the announcement.
I won't be updating anymore unless it's something big like say SH getting picked up for release in the N/A, so if anyone has anything new, just reply to the thread.
Credits
All scans and translations are credited to the people frequenting the SH: FTNW boards on gamefaqs, especially maskrider, the guy who has been supplying the SH boards with new videos and translating the latest info.
I finally have the game!