https://apps.faceboo...tstwo/phase2/uk
Female codes remaining. Male codes are gone
Found by webkatt




Facebook (thanks to Halo Gamer)





Windows 8 Tablet Avatar Prop (US)






Starcraft II: Heart of the Swarm Avatar T-shirt (US)
Found on US dashboard





NFL Play 60





To redeem it you have to vote 1 of the 2 different Milka products
Confirmed for Italy





Darksiders 2 Van Der Schmash DLC
http://community.dar...s.com/register/





Find the ad on the USA dashboard. Then view all four tiles inside to unlock the T-shirt and theme.





Halo 4 Gold Warrior Avatar Suit
http://www.xbox.com/...E-Weekend/terms
http://t3.gstatic.co...NCUPUCYQRoRR1FQ
This offer is only available to the first 600, 000 Xbox LIVE members who are 18 years of age or over who play Halo 2, Halo 3, Halo 3 ODST, Halo 4, Halo Anniversary, Halo Reach and Halo Wars Multiplayer mode between 12:01 GMT March 8th, 2013 and 23:59 GMT March 10th, 2013. If you are one of the first 600,000 Xbox LIVE members to perform this action, you will receive a code for a free Xbox LIVE Halo avatar from March 30th , 2013. Please allow up to 4 weeks for the avatar to appear in your Xbox LIVE profile inbox. A male or female avatar will be added to your account. This avatar will correspond with the gender currently selected on your profile. To participate you must; turn on and log in to your Xbox LIVE account on your console, insert game disc for Halo 2, Halo 3, Halo 3 ODST, Halo 4, Halo Anniversary, Halo Reach and Halo Wars, which you must already have a copy of, and complete at least 1 uninterrupted hour of Halo Multiplayer. Offer runs from March 8th, 2013 to March 10th, 2013. Offer only available in regions; United Kingdom /France / Germany /Spain /Italy /Republic of Ireland /Austria /Belgium /Denmark /Finland /Netherlands /Norway /Sweden /Portugal /Switzerland /Russia /Czech Republic /Greece /Hungary /Poland. The Promoter is Microsoft Ireland Operations Limited, 70 Sir John Rogerson's Quay, Dublin 2, Ireland. All rights reserved. Microsoft, Xbox, Xbox 360, the Xbox 360 logos, Xbox LIVE, and the Xbox LIVE logo are either registered trademarks or trademarks of Microsoft Corporation in the U.S. and/or other countries. The names and logos of actual companies and products mentioned herein may be trademarks of their respective owners. By taking up this offer, you agree to our Privacy Statement http://privacy.micro...GB/default.mspx and to Xbox LIVE Terms of Use http://www.xbox.com/...egal/xboxComTOU



Free Tomb Raider Logo Avatar T-Shirt
https://www.facebook.com/TombRaider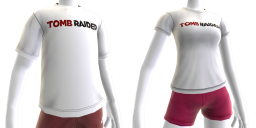 Zac Levi MP Skin for Tomb Raider
http://www.thenerdma....free-mp-codes/
Email them at contests@thenerdmachine.com and they'll send you a code for the skin.



You have to login with Facebook, and "share" the video to get a code
https://www.facebook...313854865355714





21 & Over Teddy Bear Avatar underwear
(confirmed on Canada accounts; 2 controller trick does not work)





Injustice Gods Among Us Avatar clothe & DLC skin
Vote at https://injustice.dccomics.com/
After voting you will be given the option to redeem either an avatar item and a DLC skin


* Solutions for blinking/refresh page during avatar item selection
#1
For those experiencing the blinking problem (after liking the page refreshes preventing you from choosing your avatar item)
Solution: Right when you like it, turn OFF your wifi. Your page should be stuck on the avatar selection screen. After done selecting, turn ON your wifi and hit CONFIRM
#2
If anyone knows what I am talking about, the best way to get it, and the way I did it was to:
CLick the like button, launch developer tools, search for "has-liked", where it says "display: none;" change to "display: block;"... the options should show after. (I develop websites so...)
#3
Managed to get it in Opera. If you right-click Like then select Inspect Element, you can search for has-liked (via tab in the right pane) and change the aforementioned value to block (double click it in the left pane to edit), then close out of the tool and you should be able to select your platform and gender to get the shirt.
* Other tips if you're getting "sorry out of codes" or it won't load: Open in 2 browser, also remove like and re-like again, or remove app from your fb account and redo over



Free Cadillac ATS Avatar Prop (US dashboard)

Edited by iRandom, 23 June 2013 - 12:21 AM.