Looking to find DVD's of:
Legend Of Crystania
Mouse
Bubblegum Crisis Tokyo 2040 (Those 2 DVD Collections, 3 volumes)
Ranma 1/2 The Movie - Nihao My Concubine
Martian Successor Nadesico The Movie
You're Under Arrest!
WWF Backlash 2002
Any posters of Bubblegum Crisis or 2040. Or Cowboy Beebop.
Also looking for the CE of Growlanser Generations for PS2. Have some PS2 rpg's I'm looking to sell as well.
Final Fantasy X, Final Fantasy XII CE Steelbook, Xenosaga.
And some other PS2 games: Tekken Tag Tournament, Resident Evil: Code Veronica X (BL, has DMC demo disk.), and Shadow Of Destiny. All ps2 games are complete with cover art/manual. Final Fantasy XII CE has the DVD as well.
PS2 Games are $5 each.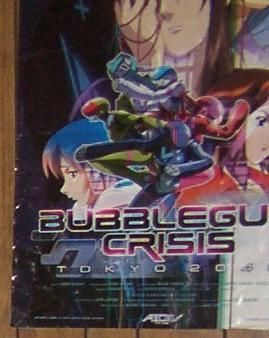 Trying to find this poster as well.
Edited by TerraBemani, 03 February 2013 - 12:35 AM.
Added more stuff for sale.