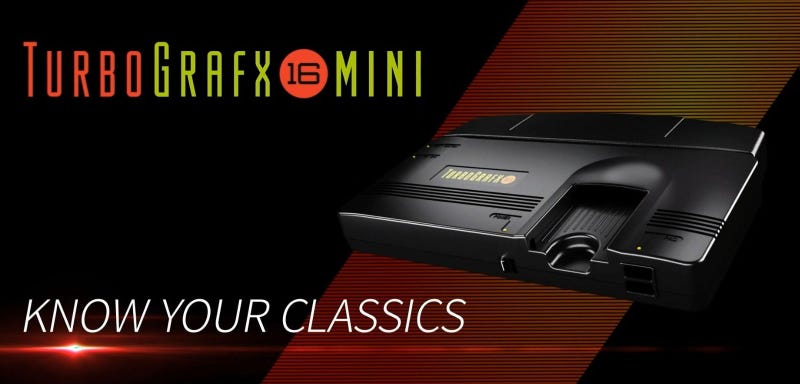 OFFICIAL RELEASE DATE : MARCH 19, 2020 (MSRP is $99.99)
AMAZON will be the EXCLUSIVE SELLER for this device, and pre-orders will open up on July 15th.
Konami's plug and play mini-replica system (roughly 85% of the original console's dimensions to maintain authenticity) will feature USB-enabled original-sized controller, HDMI-output, different display modes, quick save function for its pre-loaded games, and multitap accessory support (sold separately) for up to 5 players at once. 50 pre-loaded games currently announced are :
American Titles (English language only)
Air Zonk
Alien Crush
Blazing Lazers
Bomberman '93
Bonk's Revenge
Cadash
Chew-Man-Fu
Dungeon Explorer
J.J. & Jeff
Lords Of Thunder
Military Madness
Moto Roader
Neutopia
Neutopia II
New Adventure Island
Ninja Spirit
Parasol Stars
Power Golf
Psychosis
R-Type
Soldier Blade
Space Harrier
Victory Run
Ys Book I&II
PC Engine titles (Japanese language only)
Akumajō Dracula X Chi No Rondo (aka Castlevania: Rondo Of Blood)
Aldynes (SuperGrafx game)
Appare! Gateball
Bomberman '94
Bomberman Panic Bomber
Chō Aniki
Daimakaimura (Ghouls 'N' Ghosts - SuperGrafx game)
Dungeon Explorer
Fantasy Zone
Ginga Fukei Densetsu Sapphire
Gradius (Nemesis)
Gradius II – Gofer No Yabō (Nemesis II)
Jaseiken Necromancer
Nectaris (Military Madness)
Neutopia
Neutopia II
Ninja Ryūkenden (Ninja Gaiden)
PC-Genjin (Bonk)
Salamander
Snatcher
Star Parodier (Fantasy Star Soldier)
Super Darius
Super Momotarō Dentetsu II
Super Star Soldier
The Kung Fu (China Warrior)
Ys I&II
Additional Turbo TG-16 mini controller - 2800 yen (approx. $28)
Multi-tap TG-16 mini expansion accessory for 4 added controller ports - 3400 yen (approx. $34)
There are overlaps of games from the two different regions, so all titles are in their original language only. If any other details arise, I will be sure to update this page. Cheers!
Official website is HERE
For comparison's sake, the Japanese counterpart (PC Engine Mini) will include the following exclusive titles:
Tokimeki Memorial (Dating sim) to replace Salamander
Cool stats to noodle over : 138 licensed games were released for the Turbografx-16 in North America, with 44 of them being on the CD-format. On the other hand, a total of 650 games were officially released commercially in Japan for the PC Engine.