My Digital Press (
www.digitpress.com
) Feedback Topic
http://www.digitpres...pic.php?t=52238
Pictures can be provided if requested!
Up for sale is this VIC-20 lot, $32 shipped anywhere in the US, it is heavy. I powered it on and it does appear to work but I have no old tv to test out the games. Comes with everything needed to hook it up and some users manuals.
Games:
Qbert
Voodoo Catle
Mission Impossible
I also have a 1802 commodore monitor for $20+shipping, or local pickup in Long Island NY for $20.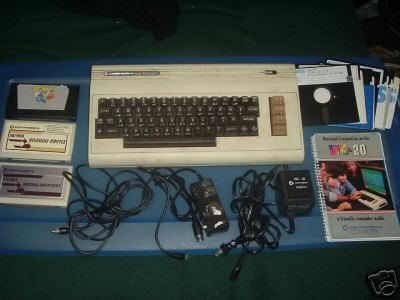 I also have boxed N64 Force Feedback rumble packs with two AAA batteries, $5 shipped anywhere in the US each.
Take all 12 for $25 shipped!
Warcraft II tides of darkness official strategy guide, $2+shipping ($1-3 depending on where you live)
PSM magazine Lot: $4 +shipping takes them all
#'s
66
69
70
73
76
79
Primiere Nintendo Power Advance Guide $4 shipped
Blood Omen II poster $3 shipped
Warcraft III Huge Poster $3 shipped
Smashing Drive Poster $3 shipped
Spider Man 2 double sided poster $3 shipped
($6 shipped for all above posters)
Sega Master System Poster $6 shipped
Factory Sealed Tail Concerto PSX (Atlus) - $30 shipped
Bally VideoArcade Galactic Invasion 2011 brand new sealed - $7 shipped
Atari 2600 Star Raiders Factory Sealed $12 shipped
Sealed Star craft (PC) $5 shipped