Last updated, 8-05-07, those interested please PM me.
Many CAGs have purchased Airsoft weapons from me in the past when I posted in the auctions board. Now to reach a greater audience I will try the Trading Board.
All guns are high quality. They are spring loaded airsoft guns, you must cock the top of the chamber in order to fire.
M650 w/ 1000 BBs
-Airsoft, 7 bullet clip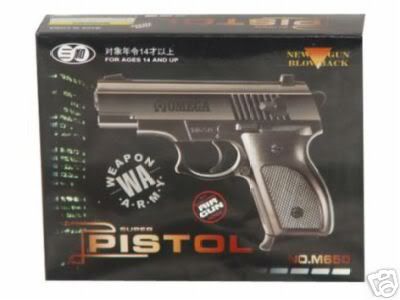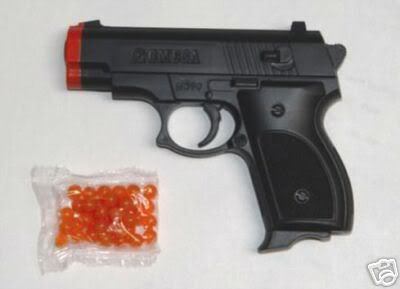 $9.00
Dual P618 w/ 1000 BBs
-Airsoft, 9 bullet clip
-Personal Opinion, this is the best buy with 2 guns.
-Image doesn't show, but it has an orange tip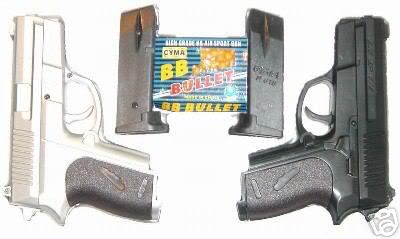 $12.00
5000 w/ BONUS M650 6mm .12g BBs
- Comes with M650 as shown above
- Purchase this and any airsoft target and get them both for only $26 shipped!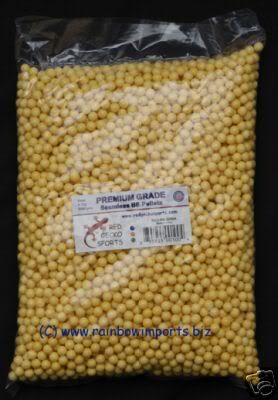 $13.00
Sticky Magic 12" Wall Target
- Save your BBs, has a BB collecting tray
$15.00
Mechanical Target, Paper Target w/ Net
- Mesh Net, targets automatically return back up (no batteries)

$15.00
Bottle of Paintball BBs (200 BBs)
- Red splatter, small AOE

$4.50
All prices are cheaper than my ebay prices, if you purchase directly from me you will recieve the listed price. If you wish to go through ebay, the prices are a little higher.
~Save! If you purchase multiple items! Please contact me for more details!
Every item purchased after the first will have a $2 discount.
~~~Save even more! Save $4 with on any one item with the purchase of a Mechanical or Sticky Target.
All prices include shipping.
Payment Methods
- Paypal (any form)
- Money Order
By placing an order you accept, and understand the following restrictions:
Age: I am at least 18 years of age and do not know of any local or state laws that would prohibit me from purchasing or owning 6mm plastic bb air soft toygun products, and or firearm imitation/replica toys.
Exempt States/Countries: By bidding you understand that it is bidders responsibility to investigate state, and local laws which may prohibit the use, or possession of airsoft guns. We do not ship to Canada.
Safety Markings: I understand that removal of any warning stickers or any protective markings will violate Federal Law and void store/manufacturers warranty.
Federal Law: I understand that Federal Law states that the use of any look-alike, replica or toy gun in a crime carries the full ramifications as a real firearm.
I answer any questions. XD