→

Viewing Profile: Likes: W.arner1281
W.arner1281
Member Since 31 May 2005
Offline
Last Active Nov 28 2019 09:16 PM
Posted by W.arner1281 on 13 December 2016 - 10:13 PM
Only reason I'm even catching this update is because I thought today was the 14th. Happy screw up!
Posted by W.arner1281 on 18 October 2012 - 05:54 PM
Well the only actual tool I'd be missing is a routing saw which I don't have, but my friend does.

But yeah, not a lot of tools needed really just lazy in the end. XD
In reality you don't even need that. Here's the tools you can get by with:
Tape measure
Hand saw (not electric or anything... just a good 'ol hand saw)
Drill (or screwdriver if you want to be uber cheap, but trust me... you'll want to use a drill)
1 & 1/2" wood screws (nothing shorter than this, but can go up to 2")
Sand paper
Optional tools:
Circular saw
Wood stain + paint brush
Belt sander
Whats the best way to join the corners if I wanted to try and build some.
K.I.S.S. (keep it simple stoopid)
Just screw one wood board into the other (see picture below). Don't try and do fancy dovetails or any of that other stuff. If you find screws REALLY unsightly, you can try pre drilling holes and using pegs, but personally I find pegs to be a pain and a bit less stable if you don't do it right.
I want to build my own bookshelves just so I have ones made out of real wood. Though I already have extra bookshelves and nowhere to put them.

Anything I should know about what kind of wood to use? And is there a way to not have screws showing where I put the tops/edges together? I'd like to use pegs to set the shelves on so there's that too.
Depends on your budget. Fancier woods will look better without having to stain them, though they might be harder to cut. Personally, I would recommend just some 1x6" thick pine wood boards. This will give you the easiest build and the most flexibility.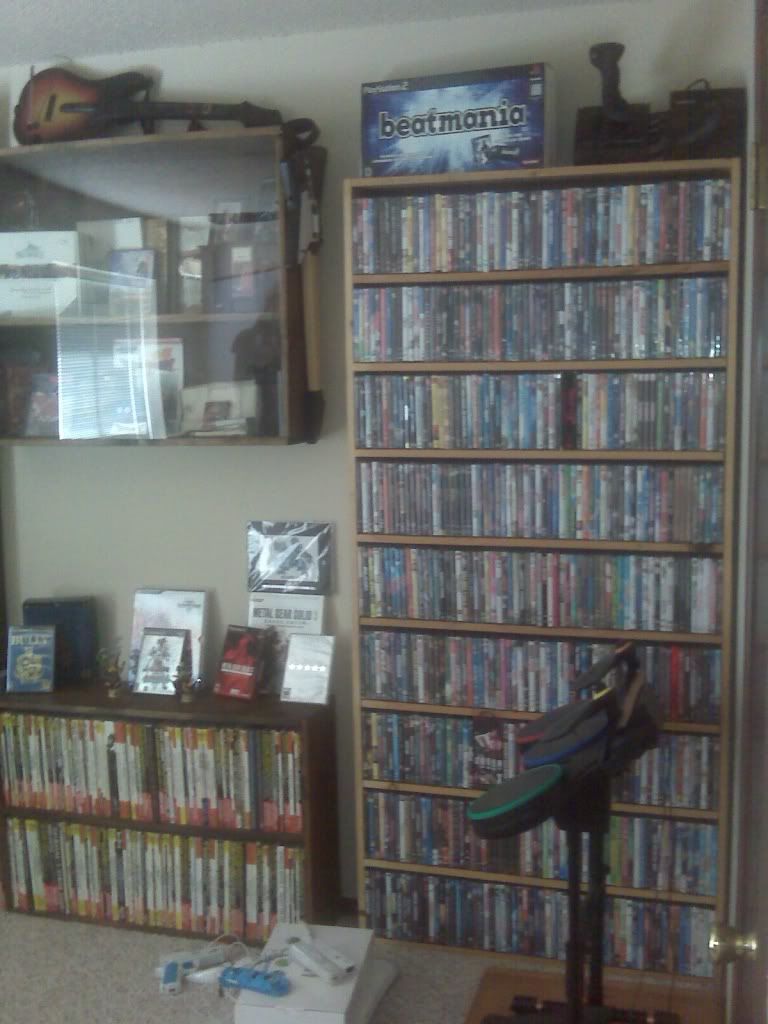 This is an example of a couple of things I've built with the same concept on all of them. The bookshelf on the right is just one long piece on the sides and all the shelves are cut to the same length and screwed in from the sides (2-3 screws on each side for each shelf). Depending on your decor, you can leave in the natural wood color or you can go buy some wood stain and go to town. There's plenty of different shades to choose from. The only other thing to figure out is the backing. I forget what it is called, but there is some kind of cheap sheet of particle board that you can find at home depot/lowe's/etc. that you can simply cut to size and nail into the back of your finished structure. You can also stain it to match the rest of the shelf.
Quick word of advice- If you are going to stain, make sure you cut all the pieces to size and then stain it. Don't wait until after it is all assembled to stain it or you'll miss lots of little corners. Just an FYI.
PS- To answer the question about screws not showing, if you use the black colored screws and stain the wood a darker color, the screws will blend in and you can't really see them.
→

Viewing Profile: Likes: W.arner1281