Against my better judgment, my wife has entered our newborn daughter in a contest to win a cover appearance on
American Baby
magazine. The winning baby also wins
$25K for college
. I initially opposed the idea, but since my wife went ahead and submitted her picture, I figure she might as well win it. If you could take a minute and vote for my daughter, I would certainly appreciate it! I think you can vote once per day, and the contest runs for one week. Thanks!
http://photos.parent...te/photo/194251
Post here each time that you vote. (This will be on the honor system.) You can vote once per day, per computer. At the end of the week, I will randomly select 3 people from this thread and send them a random video game from my collection. Thanks for helping!
UPDATE: OK, it looks like my daughter will be finishing in 5th place. I have no idea what kind of shady methods the other babies used to move up so quickly and knock my girl out of 1st, but whatever. She had a great run thanks to you guys. I've used the random number generator over at random.org to select 3 lucky winners from this thread.
The three winners are: sykotek (#600), Anhmeister (#593), and Lord_Kefka (#479)
I will be posting more details once I hear from them. Thanks for all of the help. This is a wonderful community and I'm proud to be a member of it! My daughter says: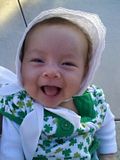 Edited by pacifickarma, 12 April 2010 - 04:12 AM.
Contest over. Winners selected.