ChoCoBoI's SUPER AWESOME Search and Win Site of MEGAWIN!

So some of you may remember me and my success with luckysearch.com! But after using luckysearch for a few months and about $60 in Amazon giftcards later, luckysearch began to get cheap on us. They got more stingy with points and made it much harder to win superpoints.
But then after looking around, I stumbled across Swag Bucks! I'm sure many of you guys have seen the site here and there on the CAG boards, so I'm hear to explain it more in depth to the people that havn't heard or tried it out yet.
So what is SwagBucks/Luckysearch/Blingo/Winzy?

All the above mentioned are search engines (like Google, Yahoo, etc), but with an awesome twist. The awesome thing about these sites is that they reward you in (tangible/monitary) prizes. Many of these sites give you a chance to win prizes (or points to redeem prizes) when you make a simple search with their search engine. The even more awesome thing is that many of these sites run off of Google or Yahoo search technology to essentially you are using Google or Yahoo. The downside to that is that it isn't exactly the same search results as those sites, but essentially it works with the same technology.
_______


The Test Drive Verdict:

When I first started the site, I gave it a test run to figure out how much I could win on my own. And well, the verdict is that Swag Bucks is in no way stingy at all! In fact, they're so freaking generous with points that you can net a $5 giftcard for a under 5 minutes a day using the their search engine. From what I found out, each person is guarenteed to win atleast one Swag Buck a day. The winnings are set so that after a random amount of time (somewhere between 6-12 hours) and on the x'th search number (somewhere around 1-15) you search is set to win a random amount of Swag Bucks (usually 1, but a lot of time 2 3 or even 10). You can easily net up Amazon Giftcards at 45 Swag Bucks a pop in under 2.5 weeks. Swag Bucks also recently made a booming Facebook group where you can directly talk to The Swag Guy for questions, suggestions, and just random stuff Swag Buck related (or not). They also just started up a Twitter and they've had a blog for many announcements. The site also lets extends winning Swag Bucks with other programs such as time-sensetitive or entry-sensetive (first 1000 people to enter wins) Swag Codes to earn more Swag Bucks. Its really quite wonderful. Ill explain the wonders of these extentions further down. The great thing about Swag Bucks is that you can't even fully call it a pyrimid scheme (I'll explain it after this). Winning Swag Bucks isn't nearly as referral independent as many of the other sites I've used. Let's say it took about 3.5 weeks with several friends on Luckysearch (until it started sucking) to win a $5 Amazon Giftcard. In this program, I had only 4 apartment-mates help me, and in under 3 weeks, I netted $35 in Giftcards.
tl;dr? : Swag Bucks lets you win $5 in Amazon Giftcards using their search engine for as little as 3 minutes a day for about 2.5 weeks without friend referrals. Also, its freaking awesome.

Proof of wins:
Note: if its more than $5 then Swag Bucks was kind enough to put it in 1 code when you order more than 2 gifftcards before they send it to you.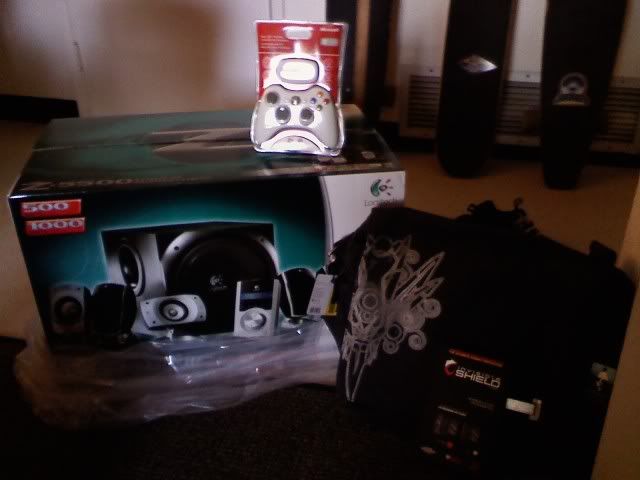 This has been my biggest net with a free website yet. The Xbox 360 controller was from frequentshopper when it was still alive. The messenger bag and invisible shield and the z5500 speakers were bought from amazon.com using swagbuck's giftcards. In total, I spent 10 cents on those speakers. The others I bought for personal use.
Pyrimid Scheme? NOT REALLY...

A pyrimid scheme is a scheme where in order to win something, you must invite many friends to help you. For example, the TraInn sites (yourfreexbox360elite.com, etc) operate on pyrimid schemes where you have to invite 5 friends to do something in order to win a prize. The other search and win sites operate somewhat like that by making you invite lots of friends in order to make it remotely possible to win the higher up prizes (seriously, who the hell is ever gonna win a car from luckysearch). However from my experience, Swag Bucks doesn't rely (somewhat does) quite as heavily on friend invites as others do. Why is that? Well the thing is for every friend you invite, only their first 100 bucks won through searches is matched to you. So in about a month, your friend's referal becomes as useless as an unbent paperclip (dont go MacGuyver on me). Nonetheless though, the website is still easy to use and VERY easy to win on.
Without Further Ado, Here is the almighty referral link. If you liked what I told you, please help me out. If you don't like what I told you, don't bother (doesn't hurt to try though). And if you liked what I told and don't like me in general, you can just not use my referal link (please like me? lol).

http://swagbucks.com/refer/chocoboi


___________________________________________


SwagBuck's Extentions

FACEBOOK/TWITTER/BLOG Swag Codes:
So Swag Buck's likes to be very involved with their customers/users. In order to do that, they release these codes that must be entered within a certain amount of time or before a certain number of people enter them. And if you manage to do that, you get a few extra Swag Bucks for the day. These codes are often found on Facebook, or sent to you via Twitter, or hidden somewhere in the blog. Sometimes they involve some info searching such as the year a band debuted (wikipedia ftw). Awesome thing is that they release these codes usually once a day or every other day, so be on the watch out.

Searchwith(insertnamehere).com:
Swag Buck's also has other search engine sites dedicated to many of your favorite music arists or football teams. They work exactly the same way Swag Bucks does, but the only thing that irks me is that the prizes in the store are a bit higher and the swag bucks earned on those sites cannot be used on the main Swag Bucks site. The REALLY REALLY cool thing though is that the prizes they offer range from autographed albums, jearsies, pictures, footballs, and many more COLLECTABLE items. These are some of the most popular items that people go for. How would you like a football signed by the San Diego Chargers? (GO CHARGERS! too bad they didn't make it to the Superbowl). The awesome thing about using these search sites is that you help your favorite artist earn money by using their coressponding search and win site. It's really quite excellent.

Shopping:
Like luckysearch.com, swag bucks offers you the chance to win more bucks when you shop as some of your favorite places online. FOr CAG's interest, these shops include Gamestop/EBGames, buy.com, and newegg.com. Swag Buck's will reward you x amount of bucks for y amount of dollars you spend at that store! And knowing you guys as CAGGERS, sooner or later you'll probably net something off of one of these sites.

GOING GREEN:
Got an old phone or mp3 player you're gonna trash? Swag Bucks lets you recycle your old cell phone/mp3 player (in working order) and they will give you x amount of bucks for it. Might as well clear up your house from clutter.

Many freaking more to come:
Remember, Swag Bucks is rapidly expanding and always adding new things (often times suggestions from the Facebook group). The best thing about Swag Bucks is that they actually respond to your suggestions and try to apply it to the site for our own convenience. Keep checking back for new things!



Edited by ChoCoBoI, 23 August 2009 - 08:19 PM.