Now multiquote randomly works again, WTF?!
Yay for no plastic coating. As long as it isn't waterproof, it should be recyclable.

And I'm pretty sure that 3DS add-on wouldn't be beyond your abilities. In fact, if you didn't care about the appearance, I imagine you could do the majority of the work with a Dremel. It's basically just a Circle Pad Pro with a Nyko Power Pak +. The problem is that the two things can't be used at once; they don't fit because the extended battery pack is too thick and it gets in the way of the Circle Pad Pro. I'm guessing you could probably just cut away some of the plastic in the CPP to make room for the battery. If not, then at worst, it would need an improved case. I may actually try it myself in the near future when I have the funds, but I know I won't be able to make it as purty as you would.
I thought you meant making a new product from scratch. If you want something modded, then yeah, for sure. I'll gladly tackle something like that
I'd rather see one made out of wood, though with 3D printers the casing shouldn't be that hard. Isn't there a CAG Woodworker?
What made out of wood? The 3DS doohickey? I love working with wood, but my woodworking tools are fairly limited at the moment :(
Band saw, compound miter saw, router, crapy skill saw, and that's about it besides hand tools. Great for making shelves, but difficult to make tiny intricate items with. Really, a CNC machine would be absolutely perfect for little stuff like this. But that's WAY out of the price range right now.
...
Get an actual Dremel brand rotary tool. Dremel is like Kleenex or Xerox or Plexiglass; brand name that gets used as if it's a generic product descriptor. They are incredibly quiet, have multiple speed settings (VERY useful for tiny crap like game modding), and all the best accessories fit Dremel brand (and are actually made by).
As far as where to buy, well, you're a CAG, I imagine you know how to deal hunt. I'd start on Amazon and eBay. Just lookout for the China/Hong Kong sellers (as usual).
These are the bits that I use 99.9% of the time.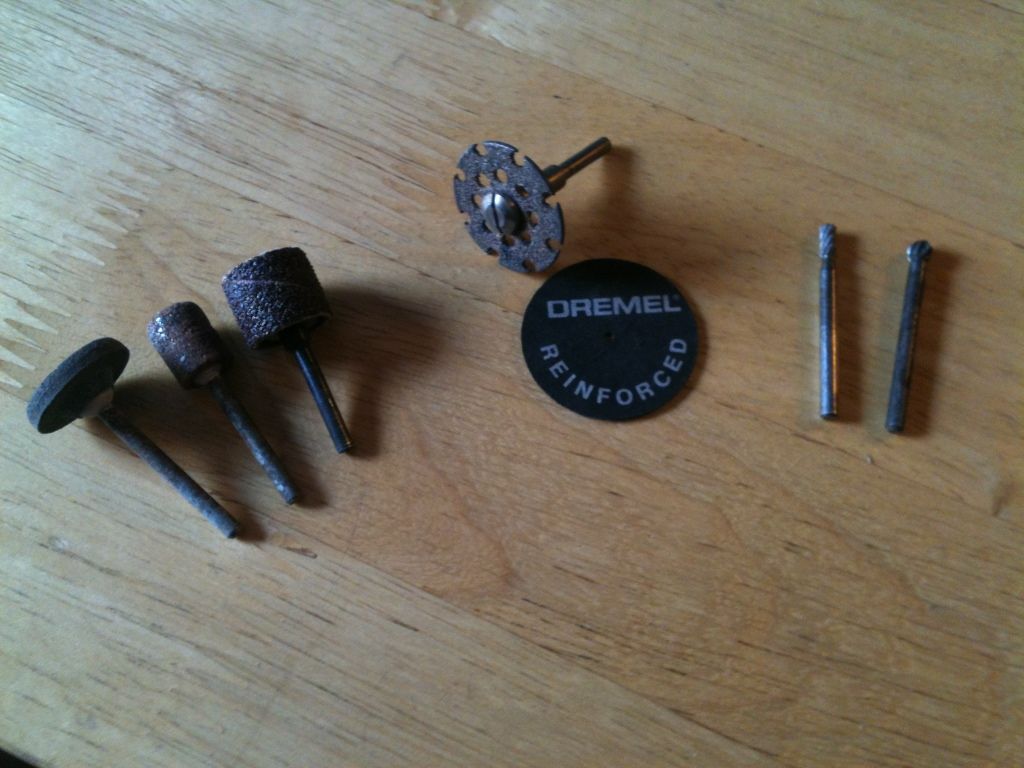 On the left are
sanding drums and grind stones
. These do, um, what sandpaper do LOL! Great for cleaning up rough cuts or whatever. Use on metal and wood. No good for plastics. You'll just melt shit and make a mess.
In the middle are
cutoff wheels
. The top is a carbide wheel that will cut through damn near anything. Great for steel and harder metals. The bottom disc is carbon reinforced. These are great for just about everything else. I'd use them for plastic, aluminum, and steel (as long as it's not much heavier than 26g). Not good for wood. They make bits for wood (look like little saw blades), but I don't ever find myself in need of a wood cutting bit for the Dremel.
On the right are
side cutting bits
. These are my FAVORITE variety rotary tool bit. They do what you cannot do with any other tool on this scale. Think of them as a mix between router bits and a saw that cuts parallel to the chuck instead of perpendicular like the cutoff wheels. EXCELLENT for modding consoles and other tiny projects. Plus they make nice, clean cuts. Very little cleanup required if you cut with these unlike cutoff wheels that will leave a mess o' plastic blobs and shards.
Cutting perfectly straight lines with a rotary tool isn't easy. You can set up a guide bar/jig to help, but that's a project in itself, as you may need to build a jig for every individual project.
On a side note, if you don't mind spending the extra $$$, the quick release system for the Dremel is killer. I'm eventually gonna pick one up when I run out of the non-quick release cutoff wheels that I have (which may take a while, since I bought a 50 pack about a year ago).
Soldering. What are you trying to solder and what specific issues are you having?
Also, check out the Rose Colored blog. I
just
got it up about an hour ago. Gonna be adding a ton of info about products, services, FAQs/how-tos, and other fun stuff
(click anywhere on my sig)